Hasui Kawase




(1883 - 1957)




Detail

Ippitsusai Bunchô




(active 1765 - 1792)




Detail

Utagawa Hiroshige




(1797 - 1858)




Detail
The gallery TANAKAYA
The gallery Tanakaya, created in 1988 by Tamio Ikeda in the district of Saint-Germain des Près, in Paris,
is specialized in fine Japanese prints (Ukiyo-e, Shin-Hanga and Sosaku-Hanga),
illustrated books, paintings, and antiques, mainly lacquers, ceramics, bronzes...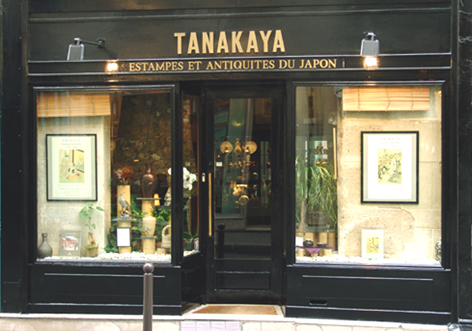 The gallery Tanakaya
Saint-Sulpice street, Paris
We hope, with this website, give you informations on works of art we offer to sale,
at the gallery or during the antiques fairs we participate.
This website presents only a small part of the works we can sale.
We hope you will visit the gallery if you come to Paris, or if you go to the antiques fairs
at Brussels and Maastricht.
We will be happy to receive you and show you woodblock prints and antique objects from Japan,
all original and in very good condition.
The gallery participates to several international antique fairs :
- TEFAF (The European Fine Art Fair) at Maastricht, in March
- BRAFA (Brussels Art and Antiques Fair), in January
- The Biennale des Antiquaires, Paris, Grand-Palais, in September
- Paris International Print Fair (Grand-Palais des Champs Elysées), in spring.
Exhibitions are organized in the gallery, twice a year, some with catalogues.
By clicking on Exhibitions at the top of this page,
you will have all information on our recent events, and examples of works exhibited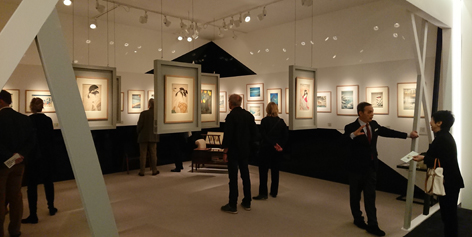 TEFAF, Maastricht, March 2019
The gallery guarentees the authenticity and quality of the prints and works of art it sells.
The gallery does not sell any copies or reprint.
Katsushika Hokusai
(1760 - 1849)
Detail
Tiger, ceramic
Edo Period
Detail
Utagawa Kuniyoshi
(1797 - 1861)
Detail
The gallery adheres to :
- Syndicat National des Antiquaires, Paris
-Chambre Syndicale du Dessin, de l'Estampe et du Tableau, Paris
- Japanese Society of America (Ukiyo-e Society of America), New-York
- International Ukiyo-e Association, Tokyo
- SNCAO, Paris, (national antique dealers association)
Utagawa Toyokuni
(1769 - 1825)
Detail
Shibayama
Meiji Period
Detail
Utagawa Hiroshige
(1797 - 1858)
Detail
The gallery is open :
- from tuesday to friday, from 2 p.m. to 6.30 p.m.
- on saturday, from 12 a.m. to 6.30 p.m.